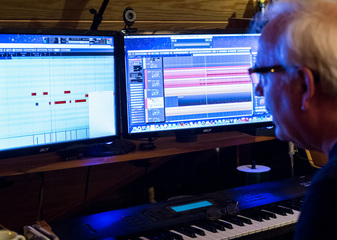 ---
My new solo cd "Jamie Two Ever is finally out! Go HERE to buy it now-if you dare! Only 300 ever pressed and the physical version has 8 additional cover tunes. A total of 15 songs. Click HERE to read all the lyrics- Cheers!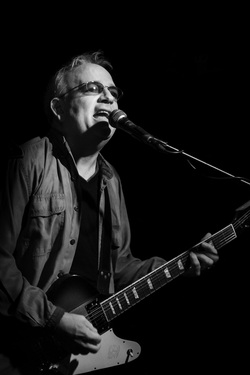 Photo by Laura Tinnel
I always have many musical efforts going on-playing shows, doing various recording projects, record production, and recording instruction. Please follow and "like" my Facebook Business page:https://www.facebook.com/JamieHoover.net
Please don't hesitate to contact me about any of these matters. I return all of my emails. I look forward to hearing from you!
---
Producer, Musician, Songwriter....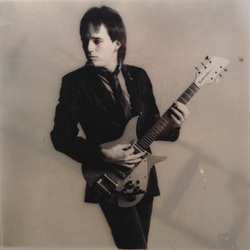 My duties in The
Spongetones
for the last 35-plus years include songwriter, guitarist, vocalist, producer, recording engineer, arranger, bassist, sometimes drummer, and other various musical noises. I have recorded and produced all twelve records for The Spongetones, with rave reviews in Rolling Stone, Billboard, Trouser Press, Goldmine, and many others. The Spongetones are currently signed to Airmail Records in Japan.
I wrote, recorded, produced and performed the song
"Skinny"
by The Spongetones-played on "ABC World Night News"-every night since April of 2006--and is still being used today on their "Skinny Now" gossip section of the show.
My dear friend and bass player in The Spongetones-Steve Stoeckel have made 3 cd releases-the most recent (to be released 1/1/13) entitled "Imaginary Café'". More to come….The first two are also available in Japan on Air Mail Records. Go to
jamieandsteve.net
I recently produced the first
Bob Lind
(Elusive Butterfly and many others) album in 41 years-entitled "Finding You Again"-so far to rave reviews. Starting another one soon….
I wrote, recorded, produced, and performed-with my brothers-The Spongetones-the song "Skinny", which has been featured on ABC World News Now as their theme song for "Skinny Now" every night since April of 2006. Unfortunately-we're not world-class stars from this (they don't ay our name during it)--but still....it's cool.
I have a full-length pop record entitled Paparazzi with fellow popster and alt-country star
Bill Lloyd
. All drums on this record are performed by Dennis Diken. (The Smithereens).
I did two cd's with my dear friend Bryan Shumate-under the band name "The Van DeLecki's"—both released on Permanent Press Recordings.
I have toured, playing keyboards/guitar/mandolin and lap steele for
Hootie and The Blowfish
-sitting in For Peter Holsapple while his wife had a baby son-Web.
I have toured and recorded for over 28 years as guitarist for producer/recording artist
Don Dixon
and his wife-singer/recording artist
Marti Jones
, touring most of the United States, Canada, and Europe with them. Still do on occasion...
I filled in as bass player for
The Smithereens
' Mike Meseros for over a year-from May of 1997 until June of 1998 as a regular player. I have filled in twice since then and may again….but I kinda doubt it. Go Severa!!
I toured as guitarist/backup vocalist for
Graham Parker
as a member of "The Small Clubs" in support of the "Burning Questions" Capitol release in 1992. I also recorded with that band during the tour for a Richard Thompson tribute "Beat The Retreat"-the song "The Madness Of Love", and made an appearance with GP on The Tonight Show with Jay Leno.
I recorded at Ardent Studios in Memphis for a couple weeks as the bass player for the Orange Humble Band (Australia) with Mitch Easter on guitar/producing, Jody Stephens (Big Star) on drums, Ken Stringfellow (Posies) on vocals.
Also sang an arranged the back up vocals and played bass on the Coronet Blue cd's-recorded by Mitch Easter, strings by Don Dixon.
I used to own and operate a project studio in Charlotte, NC called "Hooverama@Liquid Studios", where I worked on many indie recording projects, wrote custom music, and did some sound design. I have recorded over the years with acts such as Joe Walsh, Hootie and The Blowfish, and many others.
I was the voice of Pido--of The Raggs Kids Club Band--and wrote "
Stand Back Brain Attack"
--plus many others for this very cool project--bery big in Australian...
My projects include Wednesday 13, Rayen Belchere', South Of Sane and Barnhill Station, Bob Lind, Crisis, Cool King Chris The Reverend
Joh P Kee
,
The PTL Club Singers
,
The Reverend Willy C Wirtz
, and many others….
---